I awoke on the morning of October 15 with the vague, yet very real, sense that I would not be going back to sleep. It was about 6.50 (a time that seemed so very, very early back then), and there were ominous grey clouds on the horizon.
5 minutes later, as I made myself a coffee, Tori (my wife) came out of the bedroom to announce; "I think my waters just broke". Admittedly we were both very new to this, but felt quite certain that the 'breaking of waters' would be something slightly more definitive – something that would be unmistakable, and certainly not something that you could be confused about. And yet, as I stared at the small wet spot on the bed, no larger than a 50c piece, I felt compelled to ask.
"Are you sure?"
"Not really. But I only peed 10 minutes ago so, yeah, I think so."
We stood, staring, trying to make sense of this development. Our son was not due for another 2 weeks, and while we had a hunch he would come early, was this too early? Sure, only the night before Tori had said to me "Do you think he knows we're ready", and I had responded in the affirmative, but I was also hoping to get along and see a film on October 15, so 'ready' was a pretty relative term.
"My pants are really wet", said Tori, bringing my attention back to the task at hand. We made our way into the bathroom, where she pulled down her pajamas, and we stared, watching a steady trickle of fluid drip out of her. Even faced with this undeniable evidence, I was unconvinced. Was it at all possible that a small, low-pressure system had worked its way between her legs? I'm no scientist, but, surely, all possibilities needed to be entertained.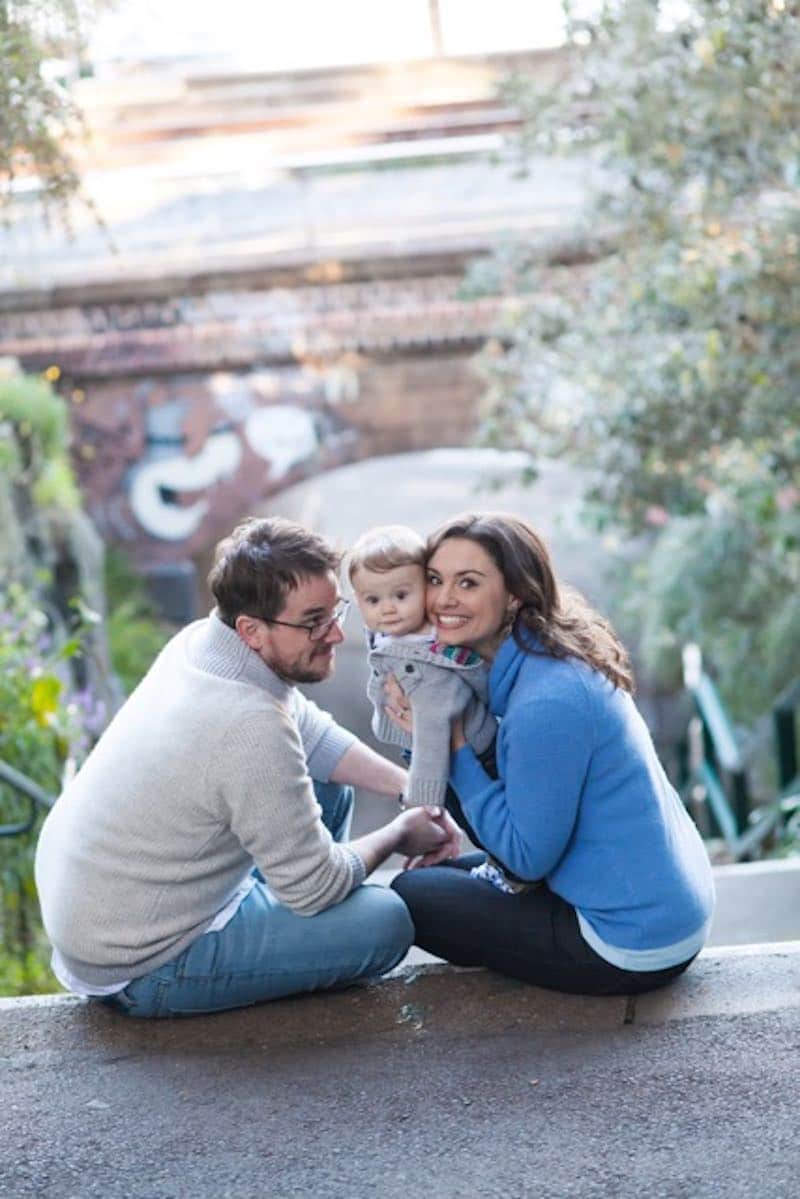 "I think… I mean, that has to be it, yeah?" I said with all the certainty of a 10 year old choosing a $500 bottle of wine. Regardless, we couldn't call the Midwife till 9am, so it was decided that Tori would go back to bed and sleep, while I quietly climbed the walls.
My wife has an amazing number of talents, some of which I was yet to experience, but her ability to sleep is beyond peer. Her head hit the pillow at roughly 7.10, and her unmistakable 'it's not snoring' snore started up moments later.
I turned on the TV and wondered, admittedly far too late, whether being a dad was something I was up to. A piece of sage-like advice imparted to me the previous day floated back. "Take 2 Panadol and put them in your pocket, because at some stage you're going to get a headache, and when that happens in the middle of your wife's labour you won't be allowed to ask for pain relief. You just won't."
I went into the bathroom and prepared 2 Panadol.
Before I knew it, 9am had rolled around and we called our Midwife, Rachel, who was already in the process of delivering someone else's baby. She calmly (I assume she was calm, Tori did the speaking) told us to come in when we could, so they could confirm that Tori's waters had broken, and make sure that everything was progressing well.
After a leisurely breakfast (Tori was only in labour with our first child, after all…) we headed to the hospital. I loaded the bags filled with candle-lights, massage oils and over eight hours of laboring music into the car, because apparently my six weeks of scout training wasn't a complete waste, and I was determined to 'be prepared'. The trip to the hospital was uneventful. I very nearly drove over an unsuspecting pedestrian and, moments later, a car spun out of control in front of us on a roundabout, as we stared, watching it unfold as though we were watching a movie, but that's just Sydney traffic. Regardless, we got to the hospital. That's the point.
By the time I parked the car Tori was experiencing what she referred to as waves. These brief periods of nausea would bring her to a standstill every few minutes, but still weren't what she'd describe as painful. We made our way up to the maternity ward and then we waited.
Then we waited some more.
While waiting we made jokes about how Tori had now been in labour for 3 and a half hours, and how torturous it had been thus far. Soon enough we were taken to a room, and Tori was hooked up to a monitor that displayed a wavy line that turned into something that looked like a small mountain range every time she experienced a 'wave'.

Eventually a Doctor joined us, and confirmed that yes, those mountains were contractions (albeit Braxton Hicks ones), and that our baby was very happy. She pointed at something on the screen when she said that, and I nodded approvingly while desperately trying to work out just what it was she pointed at. This seemed to be the consensus among the Nurses and Midwives too. "He's very happy, just look at that line thing there!"
The position that Tori was in at this stage, half reclined on the hospital bed, put added pressure on her back, which seemed to be bearing the brunt of her contraction 'waves'. On one or two occasions we had implemented the 'back-labour-no-more Vortex Lift™' to make sure our boy was facing the right way, but each wave rolled steadily into, and along, her spine, and being stuck in a bed was making 'pain' management difficult.
The Doctor placed something that looked very much like a curling wand inside my wife and said, "This may cause some discomfort", which I deftly translated to mean "I'm going to hurt her now" so took her hand (my wife's, not the Doctor's). Tori winced as the device was expanded, but her discomfort seemed to abate as the Doctor confirmed, "Yes, your waters have broken, and I can tell you his hair colour." She told us that she wouldn't check Tori's dilation just yet as that would mean we would need to be admitted, and couldn't go home. Tori was keen to get home, so we agreed, and waited for the official 'go home' word.
The curling wand, it seems, had a special added feature, in that the waves that Tori was experiencing were now more intense. Where once the contractions were "about a four", now they were up to "six, six and a half".
"I want ham", my once vegetarian wife told me.
"Okay. Let's grab burgers on the way home", I said, planting a seed that would never bear fruit.
The official 'go home' word was a lot slower than anticipated, delayed further as we went on a mission to collect the TENS machine, that we were supposed to pick up at our scheduled appointment with Rachel the next day. We also had to book in an induction, in case labour hadn't commenced within 72 hours. Rachel, wouldn't be there on the Saturday, the close of our 72 hour window, but Friday was booked out. We opted to book in for Saturday, then "panic" on Friday. It was so far away, and we were both pretty sure this baby was coming today. Plus, we were so experienced with childbirth. What did trained professionals know?
TENS machine in hand, and induction date locked in, we waited to go home. Everyone had told us we could go, but no one officially. "I'm starting to lose my poker face", Tori said as we paced the floor. Then she went and threw up. The primary objective was to get home. Even if we just came straight back, Tori wanted to be at home first.
Eventually, official word came and we left.
"Fancy that burger?" I asked hopefully.
"Ugh", said my wife.
We arrived home a little before 2pm. Tori had a hot shower while I tried to give myself a crash course in TENS operation. I placed several towels on the floor in the living room, and an exercise ball, and wondered if I should go back to get the bags out of the car. "No", I decided, "best to leave them there so I'm prepared."
Tori got out of the shower, threw up again, and then things got serious. I brought her out to my living room oasis, and pressed firmly on her back as the contractions started. I had downloaded an app that morning, to time the contractions, and it had a helpful chart to show what stage of labour we were in.
After two contractions I was completely lost.
The contractions were strong now, and when they came on Tori could only say "now", and I'd press as firmly as I could on her back till the contraction passed. Then she'd go into recovery mode, focusing on her breathing. We tried the TENS machine, but my lack of knowledge, coupled with the fact that we were already way past the point where it was useful, meant that its appearance in our birth tale was short lived.
Tori needed to be in the bathroom, so we moved in there. We live in a small apartment, and most of our hot water was gone by the time Tori got out of the shower, so I set about boiling more between contractions so I could fill the bath. I also fetched extra towels, to lay around the bathroom. Hot water and towels. I was a midwife in the 18th century.
Sitting on the toilet was the most comfortable place for Tori, so as each contraction came, I would climb in behind her, using the cistern as an anchor point as I pushed as hard as I could on her lower back. We continued in this manner for the first hour. She'd say "now", I'd press start on the app, then climb up and push till the contraction stopped, then we'd both focus on our breathing till the next one came.
I took the two Panadol.
After an hour, Tori said "I want an epidural when we go to hospital". Throughout the pregnancy I had tried to prepare for this moment. Tori didn't want to have an epidural, we wanted a drug free birth, and I had been warned by countless other parents that, regardless of that, she will ask for one at some point. We'd had long discussions: "What do I do when you ask for one?"
"I won't."
"No, I know. But… if you do, what do you want me to do?"
"I don't want one."
"Hey, nobody knows that more than I do. But… what do you want me to do if you ask for one? Do I say no?"
"Say no."
"Okay"
"Unless I really need one."
Needless to say, I wasn't prepared when the time came.
"I want an epidural when we go to hospital", she said.
"Okay, I'll call the Midwife" I said.
I rang Rachel. "Hi Rachel. So Tori has been having some pretty strong contractions for the last hour, but… I don't know. They're all less than 5 minutes apart, but there's no pattern. Some go for 40 seconds, some a minute and a half. Some come one after a minute, others 3 minutes." Rachel reassured me this was all fine and asked if she could speak to Tori.
"I want an epidural!" Tori pleaded, hoping to give Rachel a clear picture of the situation.
"You're doing so well", said Rachel.
"I don't think I can do this", said Tori.
"You can. It's all okay", said Rachel.
Tori had another contraction while we were on the phone. Rachel was confident, it was all going well.
She told me to call back in an hour. Tori seemed defeated.
That, we later realized, was transition.
Over the next hour, things were very different. Tori was very quiet between contractions, inward focusing. She was talking to our boy, sometimes aloud, mostly internally. I would tell her how amazing she was, something I had planned to do either way, but in the moment I couldn't not tell her. To see the calmness, the focus, and the stillness that she brought to this process overwhelmed me. When I thought it would help, I gave her a pep talk, although I'm not sure how much she heard. It was as much for me as anything.
At one point we had a discussion about going to hospital. "You can't drive, I need you pressing my back"
"Okay"
"We need to get a cab"
"Okay"
"When the time comes".
As time crept on, I kept consulting my app. As near as I could tell, this was still pre-labour. I didn't have the heart to tell my wife that, as bad as this was, we hadn't even begun.
Around 4pm Tori had a very strong contraction. So strong it made her stand, as though the contraction itself was pulling her up. I said I would call Rachel again, once the contraction had passed.
"I can feel his head", said Tori, and I assumed she meant she could feel him moving.
"Okay", I said, "I'll call Rachel"
"No. I can feel his head."
I squatted down and looked between my wife's legs, and stared at the crown of my son's head.
"Oh God", I said, as adrenaline flooded my body, "I've got to call Rachel".
"Please, baby", she said, "give us a chance." I don't think I'll ever be able to capture the confidence, and the calmness that those words brought to me. No, not the words – the woman that said them. This amazing woman who knew she was going to be having this child at home, in our bathroom, with only this schmuck to help her. This woman who wanted a drug free birth, and didn't even have the benefit of the Panadol that was coursing through my system. This woman who was so in tune with her body that she was allowing it to do what it wanted to do, naturally.
"Okay", I said.
At 4.17 she said "now".
I pressed start on the app, and climbed into my, now familiar, perch against the cistern.
As she let out a grunt, she stood up and I moved to kneel in front of her. I placed my hand on our son's head. "I've got his head", I said, and she pushed.
It all happened quickly. I don't even know how quickly. Our son slid out of her, and into our hands. I think I gave him a cursory wipe down, but I don't know. I quickly brought him up to my wife's chest.
The next 10 seconds were, as a friend later described them, the closest my wife and I would ever be, and yet our experience of them could not be more different, except to say that they seemed to last forever. For Tori, she looked at our sons face, as he blinked, trying to make sense of this new world. For me, I stared at an immobile rib cage as I repeated, perhaps out loud, "please breathe, please breathe, please breathe".
And then he cried.
And then, so did I.
Tori, peaceful and beatific, said "hello little guy" and became a mother.
The next hour passed in a blur. Ambulances were called, first nappies were changed, I finally pulled the bags out of the car, leaving the lights and the music at home.
As we left our home, for the first time as parents, we passed our neighbor, himself only a father of several months. He saw the ambulances, and Tori being wheeled out on a bed, followed by me, cradling our new little champion.
"So we had a baby" I said. And he congratulated us.
As I climbed into the ambulance he called out "what's his name?"
"We still haven't decided" I said.
"Archer" said my wife.
And so it was.