My husband, Nick, and I both chose to do the Calmbirth course in my second pregnancy. My first birth was an arduous labour with a decent amount of intervention. I found it somewhat traumatic afterwards and knew that to be able to go through labour and birth again I wanted more skills and options up my sleeve to help me with whatever may happen again. Calmbirth was perfect.
Even the whole shape of the island kind of looks like a pregnant woman.  There's something special about this little island that attracts families from all over the world to come here to birth.  The sense of "community" and support the families give each other, is wonderful.  Plus the NZ government's Lead Maternity Care program supports women to birth where they want, hospital, birth centre, or at home.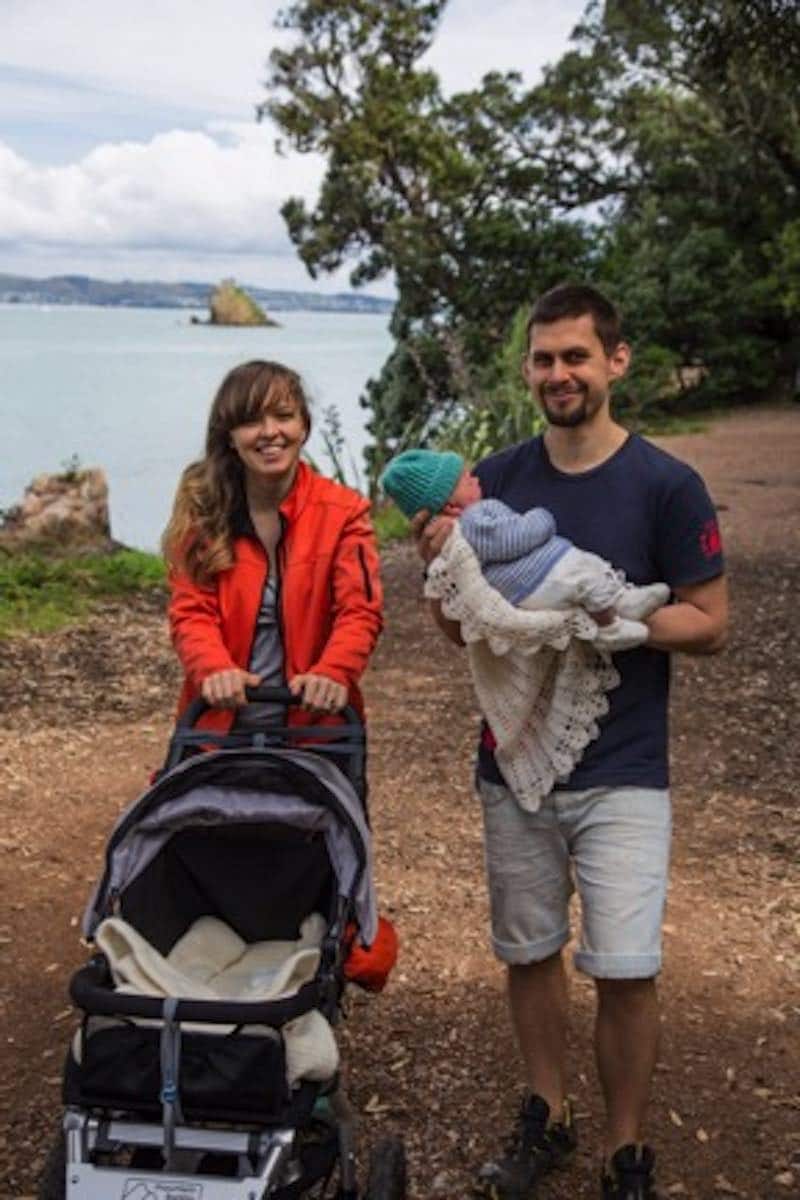 Waiheke Island is just 35 minutes by high speed ferry from downtown Auckland in New Zealand.  Nearly 8,000 people live in this island paradise, with beautiful white sand beaches and native bush, graced with spectacular views of the surrounding Hauraki Gulf.
There is a growing number of families who have attended Calmbirth classes on the island and they are more than happy to offer support to each other, before and after the birth.  Waiheke Island Calmbirth couple Katerina and Christopher Howard moved to the island after living in Europe and Asia, Katerina was born in Czech Republic. They speak of meals just arriving at their doorstep from other Waiheke families after the birth of their baby.
Their daughter Anna Howard was born at their home in Rocky Bay, on Waiheke Island, something quite difficult to achieve in the Czech Republic. "Childbirth in today's world is too often connected with fear and pain" said Anna's mum, Katerina. "Calmbirth helped us to avoid this negative thinking" says Katerina, "The workshop reinforced our decision for natural birth and provided tools for a peaceful birth filled with love and joy."
"As a dad-to-be," says Christopher "Calmbirth opened the door for me to be more engaged in the birthing process, giving me the tools and confidence to support my wife during the birth of our beautiful daughter."
Christopher and Katerina regularly pop along to Calmbirth classes on the island to share their story with other Calmbirth parents to be. And there are other couples keen to do the same, encouraging other expectant couples when out and about around the island to get along to a Calmbirth class. Plus they form bonds during the Calmbirth class and continue to regularly catch up for lunches, and bbqs etc.
Long established Waiheke midwife, Linda Hodson encouraged Katerina and Christopher to do the Calmbirth course. Linda says, "Any labour and birth, even if it doesn't go according to plan, is so much easier if the Mum and her support people are relaxed and confident." Linda said, "Calmbirth women tend to trust their bodies to do the right thing and are unafraid during labour, which makes labour easier and birth a wonderful celebration. Working with births like this is such a joy."
(Calmbirth classes happen on Waiheke Island 3 times per year, see www.calmbirth.org.nz for dates.  Calmbirth Educator Debbie Peters started teaching on Waiheke Island over 11 years ago after the birth of their daughter on the island.)