By Editor LatteLife, Jane King
Peter Jackson was one of the first male midwives in Australia, starting his nursing career in 1970. Now at the age of 74, Peter is still imparting knowledge to expectant parents through Calmbirth, a holistic program that he founded in 2004. Retiring soon, he will be handing the birthing baton to his daughter, local midwife Karen McClay.
There was a lot of informative content covered that was easy to understand and helpful in getting to know the whole process of labour and birth. The most helpful tool I found was the breathing techniques that could be applied to any situation where the pressure is on. My Calmbirth Educator, Cherie was an excellent facilitator and encouraged discussion which I found the best way to learn. She was great at helping the group to understand the material and sensitive and engaging where appropriate.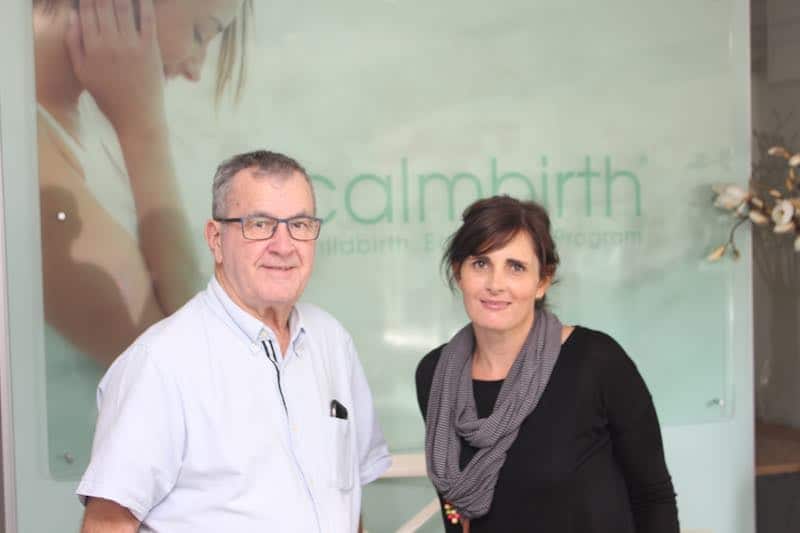 Karen told LatteLife," Peter is a legend! At the hospital, I have been assisting mothers who Peter helped to deliver years ago. Pregnancy and birth just runs in our family."
When I visited the Calmbirth Centre in Mittagong, there was a refresher course being held. I asked why anyone would need a refresher course? Karen told me, every birth is different. Even if a woman has seven children, no two deliveries will ever be the same."
Calmbirth's aim is to decrease medical intervention rates by empowering couples with knowledge and giving them the tools to work with a birth situation at an emotional level as the experience unfolds.
Neither Peter or Karen give medical advice, but they will direct a couple to evidence based advice, and help them to open communication with their caregivers.
Whatever happens during a delivery, whether it be a caesarean, or if an epidural is administered, "There is no failure in birth. All we want is a safe mum and a safe baby," said Karen.
The Calmbirth course runs for two days with local couples and parents to- be travelling far and wide treating themselves to a 'Babymoon', and educational weekend away together whilst enjoying the Southern Highlands' restaurants, before baby makes three.
Karen explained to LatteLife, "Men are initially skeptical, but by morning tea, they have a basic understanding of what is expected of them, and how important the role they have in the birth of their child, and in caring for their partner. Men can be amazing guardians in the moment. Ensuring their partner is safe, calm, and in the utmost privacy, while showing the greatest respect."
A Calmbirth course connects a couple with their baby and lays the foundation for emotional bonding.
Karen continued, "My father told me years ago when I first started as a midwife, 'If you listen, every mother will teach you something'." "Peter had so much knowledge and experience, and he saw a gap between clinical services and emotional support during childbirth. With all of that information, he created the program."
The Calmbirth program has evolved with the latest practices and research with their team of practitioners continuously upskilling.
Karen is in demand as a speaker at maternity conferences, and has hosted Calmbirth workshops for midwives at the Nepean and Westmead Hospitals.
Couples usually attend courses between 24-34 weeks, or if they're having a second baby, there's a refresher course at 30-36 weeks.
Some private health funds offer a rebate for the Calmbirth course.
After all, as Karen says, safe mum, Safe baby."
For more information visit https://calmbirth.com.au