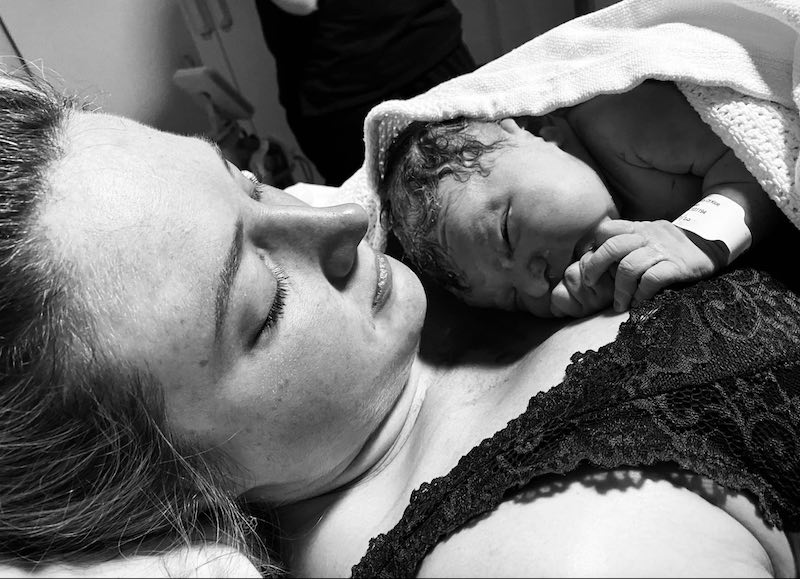 Kloe & Alex
"I highly recommend doing a birth course. We did the Calmbirth course with Cherie Chugg and not only did I learn so much, it also helped Alex understand the stages of labour and how he could support me and be my voice when I was in the zone. Cherie taught us different positions, massage, acupressure and breathing techniques to use during the birth. She also explained how our bodies release different hormones to help during each stage of labour. Thanks to the Calmbirth course I understood all the options I could choose from if labour didn't start spontaneously or if I needed interventions during birth. It helped me feel confident in the late stages of pregnancy."
Harvey arrived on September the 17th at 6am, weighing 8lb10oz.
At 40 weeks and 3 days I spent the day finishing off lots of things I'd been putting off.
I went to bed wondering if it was the night but had no symptoms to suggest it was. I woke up at 11pm with a sharp pain in my lower stomach. I got up and went to the toilet, then sat on the edge of the bed and felt a popping sensation in my stomach. My waters had broken! So many people told me this wouldn't be the first sign of labour so I wasn't expecting it at all. I woke Alex and rang my midwife who asked me to go into hospital to be assessed. I showered, packed the car and left.
It was midnight when we arrived. A midwife made us comfortable in an assessment room, where they could monitor the baby. A doctor came in to give me an examination to make sure my waters had broken. She was happy with how everything looked and said we would be able to go home and wait for contractions to begin – hopefully within the next 18hrs.
Alex and I were left in the assessment room so the baby could be monitored and after about ten minutes I felt the first wave. I got excited that things were starting naturally. I'd been worrying that if things took too long to begin naturally I may be induced.
It seemed like I'd barely caught my breath and the next wave came. Realising how close these two were I asked Alex to start timing them so we could tell the midwife when she returned. They were consistently 1 min 40 apart and 40 seconds long, there was no gradual start like I'd expected.
It was 12:30 by the time the midwife returned and I had unplugged the monitors so I could move freely around the room. Laying down increased the pain a lot. We showed the midwife the app we were using to track the contractions and she moved us straight to a birth suite. Alex asked my mum to come in as I was progressing quickly.
Over the next four hours I walked around in the birth suite, listening to a labour playlist that I had created. During the contractions Alex held me and used light touch and massage techniques he'd learnt during our Calmbirth class. During the contractions I reminded myself that my body was made for this and the pain would be over soon. Repeating this in my head and focusing on the music helped me stay in control of the pain and kept my mind calm.

I asked for the birth stool which Cherie mentioned during Calmbirth and I'm so glad I did. I took it into the shower and knelt over it, holding the handles while Alex sprayed my back with warm water. The water felt amazing and helped me to relax for the short bursts in between each contraction. I also used the birth stool to sit near the bed, where Alex sat to massage my shoulders. The birth stool was similar to sitting on the toilet, which was how I felt most comfortable. Kneeling over the exercise ball was also comfortable and helped take the weight of my belly.
After 4 hours of contractions my body felt like it wanted to push and the midwife told me I could. For the next hour I began to push, but I wasn't focusing all my energy into pushing like I should have been. I kept thinking that I hadn't been in labour for long enough to start pushing, I'd been told lots of times that I would have a long 12+ hour labour with my first baby. I also didn't know how dilated I was as I asked for minimal examinations. So I was riding the pushing feeling out like I had with the contractions.
After an hour of 'pushing' the doctor came in and told me I'd been pushing for too long and that she would need to help me get the baby out using an episiotomy and forceps. They were struggling to find his heart rate with the Doppler, so asked to insert an internal fetal monitor. I agreed to the internal monitor but declined the interventions. I said if the baby became distressed I would let them intervene but I wanted to finish on my own, the Dr gave me an extra 20minutes..
I laid on the bed so they could insert the monitor and doctor set up all her instruments at the end of the bed ready to intervene. Seeing that gave me the motivation I needed to the last of my energy to push him out. I stayed on my back to push, which wasn't the position I planned to be in because I knew gravity wasn't helping. But after 20 minutes of pushing our beautiful boy arrived. He came into the world with his hand above his head and a full head of hair.
I had planned to ask for the gas to help with pain during labour but I was so focussed that I didn't think about pain relief. It meant that Alex's poor hands got squeezed so tightly during the pushing.
I did have a 2nd degree tear, which may have been the result of pushing his head and elbow out together. After being stitched up and waiting for my placenta to be delivered, the Dr's came around to assess Harvey and we were sent home at lunch time.
I thought the hardest part was over, but breast feeding was a hurdle I hadn't prepared myself for. I struggled with latching and blistered nipples, then I ended up really sick and was admitted to hospital with Mastitis. Harvey was none the wiser and was back over his birth weight within the first week. The Hakkaa nipple shield was my saviour and gave my nipples time to heal. I was grateful that I could continue breast feeding despite our rough start.
I highly recommend doing a birth course. We did the Calmbirth course with Cherie Chugg and not only did I learn so much, it also helped Alex understand the stages of labour and how he could support me and be my voice when I was in the zone. Cherie taught us different positions, massage, acupressure and breathing techniques to use during the birth. She also explained how our bodies release different hormones to help during each stage of labour. Thanks to the Calmbirth course I understood all the options I could choose from if labour didn't start spontaneously or if I needed interventions during birth. It helped me feel confident in the late stages of pregnancy.